This week for our undergraduates, "networking" didn't only relate to getting into the details of routers, CAT5 cables, and packet tracing as it normally would, it also related to getting out and about to meet and greet (potential) future employers at Manchester Digital's Talent Day 2022…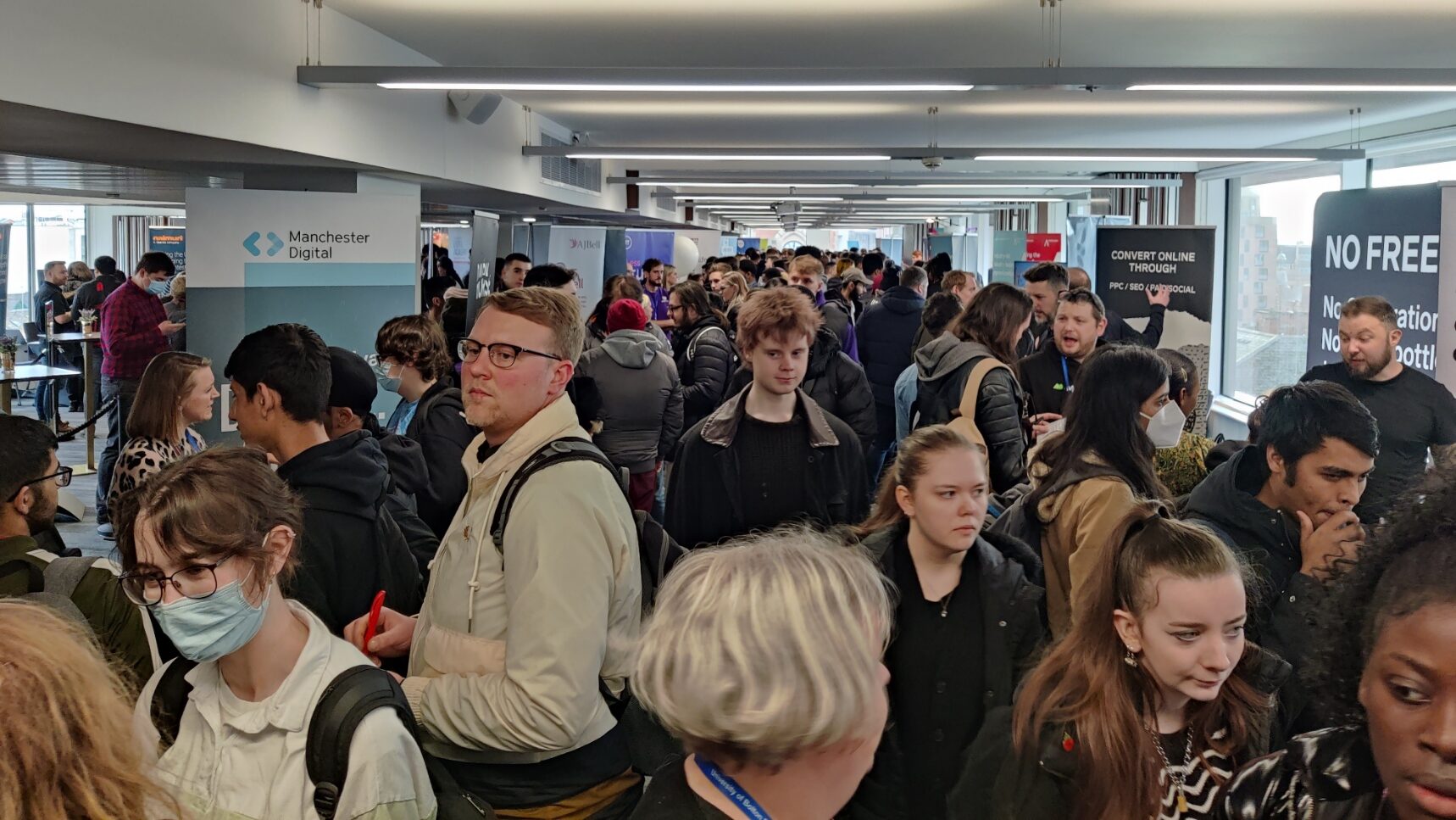 One of the downsides of the Covid-19 lockdowns has undoubtedly been the axing of the many external events our students (and lecturers!) would normally be attending and getting involved with throughout the academic year.
No more true is that than when it comes to graduate recruitment fairs, in a world where we've all had to be 2 meters apart, such events were simply out of the question.
So I think it's fair to say many of us were all champing at the bit for ages to get out to events again, but waiting patiently was the only thing we could have done!
Now, however, as the world returns to some kind of normality these events can take place again and so, with great enthusiasm – and a smattering of yummy snacks and gifts thrown in for good measure by the companies attending – many of our students (and a few of us lecturers!) descended on Piccadilly in Manchester to attend Talent Day 2022 on 9th February 2022.
Manchester Digital – an independent trade body for the tech and digital services sectors in Greater Manchester – brought together around 40 of the region's pioneering and inspiring digital, creative and tech-related companies under one roof at this fantastic event (the first since the lockdowns ended I believe) for our students to meet, greet and get to know.
From small tech start-ups and businesses operating in some very niche and unusual fields to large mainstream, "household" names (Bentley, Roku, Autotrader and Iceland Stores to name but four), there truly was "something for everyone" if what you were looking for was to make those vital contacts to help you land that first graduate computing role when you leave university in just a few months time, as many of our undergraduates are about to do.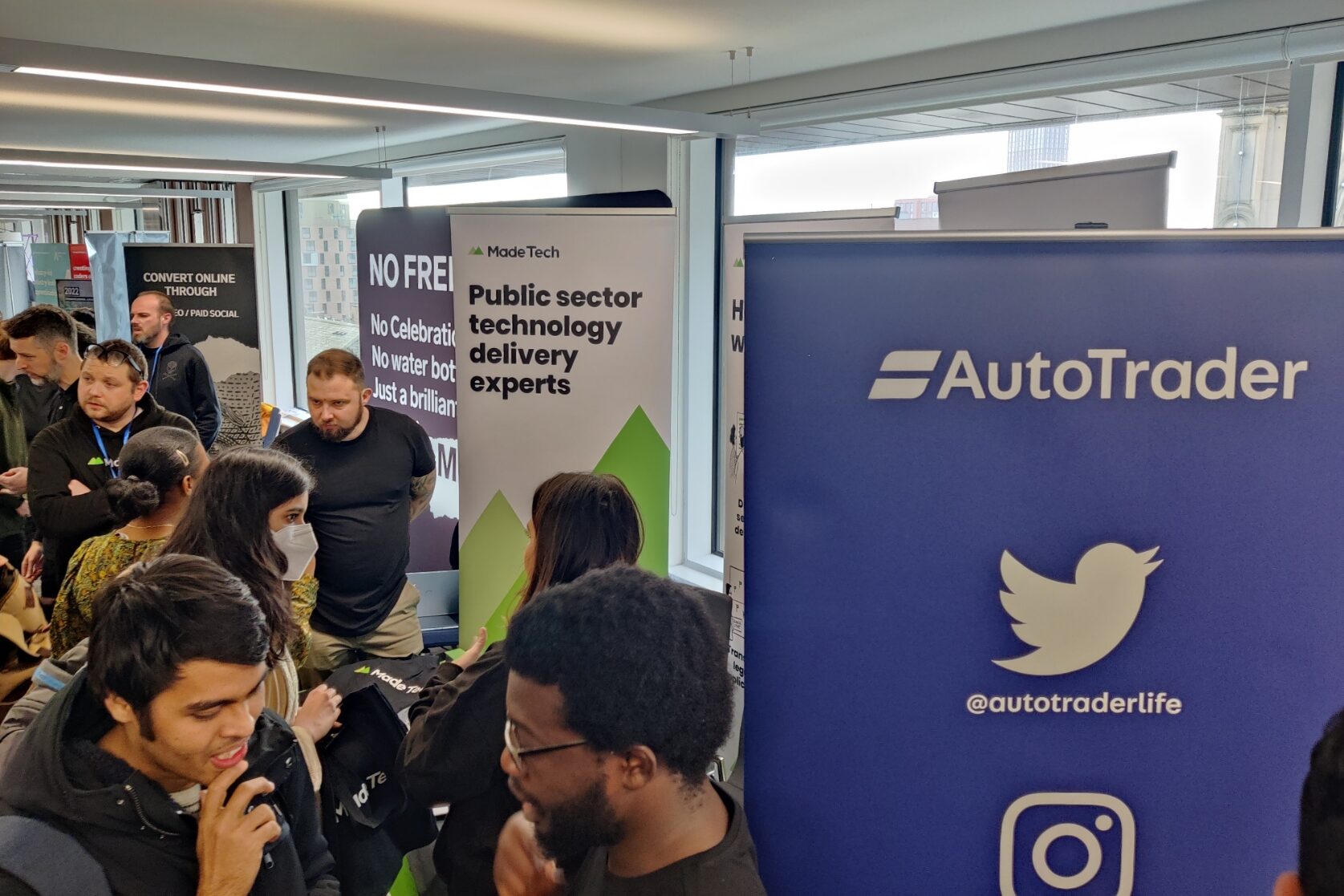 But it's not just about graduate roles for our HE6 students. Our HE5 students came along too as many were keen to find summer work placements or even a year-long placement.
And as lecturers also, we were keen to speak to employers as not only are we looking to find even more partners in the IT sector to join those we already partner with as we've now launched our "sandwich" Computing degrees, but it's also great to share with them a little about what we do: our clear ethos and relentless focus on industry-relevant teaching, our degree apprenticeships, our fantastic support, and giving all our students the best possible chance to carve out successful IT careers, as well as encouraging them to come and guest speak with us and invite our students to events they run too!
Both students and lecturers were very impressed with the event: along with all the stands offering chances to meet and greet, there were also a number of interesting and useful seminars and talks throughout the day.
For students and lecturers alike, it was informative, educational, inspirational and some very good networking was done that day, who knows where those contacts will lead in the future!
And as The University of Bolton is in the process of becoming a member of Manchester Digital itself during February 2022, one thing's for sure: we'll be going again next year and getting involved in many more of their events and activities!
Thank you Manchester Digital for an amazing event, see you at the next one!